ABOUT ARGENTINE TANGO
Argentine Tango is not the tango you see in Ballroom Championship dancing on TV, nor is it what you might have learned in a Ballroom tango class. Rather, it's the social partner dance that is practiced in clubs in Buenos Aires and all over the world, with an emphasis on the relationship between you, your partner, and the music. It is more sensuous and more intimate than other derivative forms of tango. The movie The Tango Lesson has good examples of both club style and stage Tango. Many ballroom dancers (ourselves among them), once introduced to Argentine Tango, have forsaken the study of other dances to focus solely on this exhilarating, romantic, and intensely passionate dance: the Tango.
---
MONTHLY MILONGA IN POINT ARENA
Hosted by Walter & Raquel
Tango at 215 Main is a once-a-month milonga at "215 Main", a beer and wine bar across from the Arena Theater in Point Arena, CA.
The next milonga will be on Friday, May 1, 2015, from 8 to 11 pm.
A $5 entry fee is requested.
For more information, call Walt at 707.882.2474 or email walts@mcn.org.
A Yelp review of the "215 Main" bar: http://www.yelp.com/biz/215-main-point-arena
---
ARGENTINE TANGO PRACTICA IN UKIAH
Presented by Salon Tango Club of Ukiah
Salon Tango Club of Ukiah hosts a practica every 2nd and 4th Thursday of the month from 6:15 - 8:15 pm at YOMO (Yoga Mendocino Studio), 206 Mason Street, Ukiah, CA.
$13 drop-in fee; a lower sustaining membership price is also available.
For more information please call Benna at 707-895-3883.
---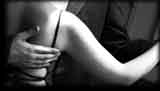 UPCOMING EVENTS ...
A list of workshops, festivals, and other special events occurring in roughly the western third of North America.

April 2015:
No further events in April.
May 2015:
Mirabai Deranjo workshops in Arcata, Sat-Sun, May 2-3, 2015
Tango del Sol of Humboldt County presents two days of workshops with Mirabai Deranja. Topics include musicality, boleos, cadenas, and "volcaditas". Weekend includes a milonga on Saturday night. Private lessons available. In Arcata, CA. For more information, see the Mirabai Workshops Flyer or visit Tango del Sol

Eduardo Saucedo workshops in FB, Fri-Mon, May 8-11, 2015 Updated
Highly esteemed Argentine tango instructor Eduardo Saucedo returns to the Mendocino coast for a weekend of workshops, sponsored by Tango Mendocino. Eduardo will be available for private lessons on Fri & Mon, May 7 & 12. He will also be at the Tango Mendocino milonga on Thursday, May 7, at the Caspar Community Center. Call 707.937.4727 for more details. Workshops will be held at The Weller House Inn, in Fort Bragg, CA.

Alicia Pons and Luis Rojas in Seattle, Fri-Sun, May 15-17 , 2015 (Dates corrected)
Workshops with close embrace specialist Alicia Pons and Luis Rojas. Program and schedule to be announced. Check the All Seattle Tango website for more information. In Seattle, WA: allseattletango.com

Pre-practica Tanguera Clothing Exchange, Sun, May 17, 2015
A women's Tanguera clothing and accessories exchange will be held at the Elk Community Center prior to the practica on this date, starting at 6 pm and ending at 7:30 pm when the practica starts. Please bring items to exchange plus potluck finger foods and drinks. Elk Community Center, Elk, CA.

Denver Memorial Day Tango Festival, Thu-Mon, May 21-25, 2015
"By dancers, for dancers", the 15th annual Denver Tango Festival will be held over Memorial Day weekend. New location in downtown Denver. Classes will be gender balanced and limited in size, so sign up early. Check the website for airfare deals. In Denver, CO: denvertangofestival.com
June 2015:
Burning Tango, Fri-Sun, June 26-28, 2015
Clay Nelson's fifth annual and very popular Burning Tango will again be held over a weekend in June. Different in concept from most festivals, there are no schedule conflicts: only one class or milonga happening at any time. Plus beautiful surroundings in the vicinity of Mt. Shasta for extracurricular activities. In McCloud, OR: burningtango.us
July 2015:
Nora's Tango Weekend, Thu-Sun, July 2-5, 2015
Nora Dinzelbacher presents her 18th annual tango festival in the SF Bay area. She bills it as "the largest world-class and most immersive tango event in North America". Instructors include the much revered Nito & Elba, Fernanda & Guillermo, and others. 15 classes a day to choose from, evening "chamuyos" (talks with instructors), nightly milongas with exhibition dances, live music on some nights, and more. At SFO Airport Marriott in Burlingame, CA : tangoweek.com

Seattle TangoMagic, Thu-Mon, July 9-13, 2015
Five beautiful days and summer nights of tango in Seattle. Includes live music with The Alex Krebs Orchestra, outdoor salmon bake, & more. In Seattle, WA: seattletangomagic.com
August 2015:
Denver Labor Day Tangofest, Thu-Mon, Sept 3-7, 2015
New venues for the DTF this year; they've moved to downtown Denver. From their website: "It will be the cat's meow! You are going to blow your wig when you see all the fun we have in store for you this year! We plan to have all the best dolls and jellbeans joining us from around the country! This year's Golden Age of Tango Festival will include fabulous themed Milongas held at the Savoy, the Turnverein and we are back at the Mercury Cafe Speakeasy for great days and nights of dancing!" In Denver, CO: denvertangofestival.com
---
For more information on tango events in the San Francisco bay area and other major US cities, visit the excellent and comprehensive Tango Mango website at tangomango.org.
---
THE TEMPTATION TO TANGO
By Irene D. Thomas and Larry M. Sawyer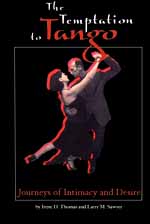 Two of Tango Mendocino's own milongueros have written a fascinating book about the attraction of tango and what it's like to learn this complex and engaging dance.
A unique feature of this book is that it includes both a man's and a woman's point of view. Irene's essays give newcomers an idea of what they will encounter, both physically and emotionally, in the process of learning this dance; advanced dancers will recognize themselves and the experiences she describes. Larry's short stories offer vignettes of the tango experience from a variety of perspectives and add an extra dimension that enhances the reader's understanding of the alluring world of tango.
Part essay, part memoir, part history, part fiction, The Temptation To Tango appeals to experienced dancers, beginners just starting their tango journey, those who aren't yet sure if tango is for them, and those who are simply curious about why this dance is so compelling to so many.
Excerpts from the book are available online. Visit their website, http://TheTemptationToTango.com, for more information and to order your copy.
---
THE IMPORTANCE OF LEAD AND FOLLOW ROLES

Leaders:
Some may say that Leading is the more challenging role in tango, because from a kaleidoscope of options, continuous split-second decisions require pleasing a partner, interpreting the music, maintaining safety & direction, and uniquely expressing oneself.

Followers:
Some may say that Following is the more challenging role in tango, because it requires near-psychic sensitivity which must be slightly subdued, while making continuous accurate split-second responses to match a partner, enhance the music, maintain balance, and uniquely express oneself.

With thanks to Polly McBride of Portland, OR -- from her (now defunct) All Things Argentine Tango website.

<! =================================================================== >
---
TANGO DANCE ETIQUETTE
Here is an informative explanation of the etiquette of the Tango. This is especially good information for new dancers who haven't yet had much experience at milongas or Tango dance workshops, with lots of good general tips plus specific advice for leaders and for followers. More experienced milongueros probably know much of this already, but it's still a good review.
---
WHERE DO WE DANCE?
Here are maps and driving directions to tango venues on the Mendocino coast:

<! =================================================================== >
---
---
---