ABOUT ARGENTINE TANGO
Argentine Tango is not the tango you see in Ballroom Championship dancing on TV, nor is it what you might have learned in a Ballroom tango class. Rather, it's the social partner dance that is practiced in clubs in Buenos Aires and all over the world, with an emphasis on the relationship between you, your partner, and the music. It is more sensuous and more intimate than other derivative forms of tango. The movie The Tango Lesson has good examples of both club style and stage Tango. Many ballroom dancers (ourselves among them), once introduced to Argentine Tango, have forsaken the study of other dances to focus solely on this exhilarating, romantic, and intensely passionate dance: the Tango.
---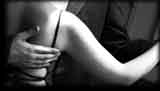 UPCOMING EVENTS ...
A list of workshops, festivals, and other special events occurring in roughly the western third of North America.

May 2016:
Weekend workshops with Eduardo Saucedo in Fort Bragg, CA, Thu-Mon, May 7-8, 2016
Argentine tango maestro Eduardo Saucedo returns to the Mendocino coast for two days of workshops. Classes will be begin at 1 pm on Saturday and 11 am on Sunday, held at the Weller House Inn. 2 classes each day, $15 per class. Milonga on Saturday night is $10. Eduardo is available for privates. For info and reservations, email Kikki at hikikki@yahoo.com. At the Weller House in Fort Bragg, CA (on the Mendocino coast): wellerhouse.com (Weller House website; no info on workshops)

Monica Paz Workshops in Albuquerque, Sat-Mon, May 7-9, 2016
Las Puertas, a tango venue in New Mexico, hosts Argentine tango teacher Monica Paz for a weekend of workshops. Monica "has vast experience as a teacher and dancer and has taught and/or performed through the world. She is a true master and teacher of milonguero style tango". In Albuquerque, NM: laspuertasevents.com (Scroll down...)

Denver Memorial Day Tango Festival, Thu-Mon, May 26-30, 2016
The 16th annual Denver Tango Festival, a long running and popular festival "by dancers, for dancers". Excellent instructors, multiple milongas, including the famous outdoor milonga in Cheesman Park. Now under new direction by Peter Simoneau and Alla Lakov. In Denver, CO: denvertangofestival.com
June 2016:
Burning Tango, Fri-Sun, June 10-12, 2016
Festival located in the historic and scenic town of McCloud, situated on the south slope of Mt. Shasta. The McCloud Ballroom, with its maple dance floor, is the perfect place for a tango festival, according to Clay Nelson, the founder and organizer. Unique in that there is no conflict in classes or milongas -- only one going on at any time, so no decisions to make. Six classes and 7 milongas, including two special mixers. Pre- & Post-Burn events if you come earlier and/or stay later. In McCloud, CA: burningtango.us

'A Taste of Tango' with Trio Garufa, Sat, June 18, 2016
Tango Mendocino and Global Harmony are offering A Taste of Tango, a 3-part tango event featuring music for dancing with Trio Garufa, the San Francisco Bay area tango band. The 3 parts are an introductory tango lesson (3-5 pm), Argentine dinner (5:30-7 pm), and dancing to live music (7:30 pm). Each part has a separate price, or all three for $60 (in advance). Newcomers are welcome. Further details and registration info on the following website. At the Gualala Arts Center in Gualala, CA: A Taste of Tango on the Gualala Arts website; Poster for the event
July 2016:
Nora's Tango Weekend, Fri-Mon, July 1-4, 2016
Nora Dinzelbacher's 19th annual SF Bay area tango festival. "Dance, learn, and work with some the finest talent of Buenos Aires and beyond." 15 classes a day to choose from; afternoon seminars; daily chamuyos (conversations with instructors); nightly milongas; live music with Seth Asarnow y su Sexteto Tipico . In San Francisco, CA: Nora's Tango Weekend

Seattle TangoMagic, Thu-Mon, July 7-11, 2016
The 12th annual TangoMagic Festival. Five beautiful days and summer nights of tango in Seattle, WA: Seattle Tango Magic

Milonguero Tango Encuentro Weekend, Thu-Mon, July 15-17, 2016
A "weekend gathering of committed, experienced Milonguero Style dancers coming together to study, build community and enjoy dancing together". Four milongas plus a BBQ potluck, and a slide show & music seminar. Liz Haight & Masami Hirokawa from Santa Fe are teaching classes for experienced milonquero style dancers only. In Salida, CO: Casa Tango Salida
August 2016:
---
For more information on tango events in the San Francisco bay area and other major US cities, visit the excellent and comprehensive Tango Mango website at tangomango.org.
---
THE TEMPTATION TO TANGO
By Irene D. Thomas and Larry M. Sawyer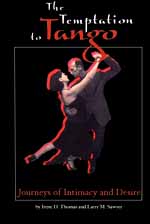 Two of Tango Mendocino's own milongueros have written a fascinating book about the attraction of tango and what it's like to learn this complex and engaging dance.
A unique feature of this book is that it includes both a man's and a woman's point of view. Irene's essays give newcomers an idea of what they will encounter, both physically and emotionally, in the process of learning this dance; advanced dancers will recognize themselves and the experiences she describes. Larry's short stories offer vignettes of the tango experience from a variety of perspectives and add an extra dimension that enhances the reader's understanding of the alluring world of tango.
Part essay, part memoir, part history, part fiction, The Temptation To Tango appeals to experienced dancers, beginners just starting their tango journey, those who aren't yet sure if tango is for them, and those who are simply curious about why this dance is so compelling to so many.
Excerpts from the book are available online. Visit their website, http://TheTemptationToTango.com, for more information and to order your copy.
---
THE IMPORTANCE OF LEAD AND FOLLOW ROLES

Leaders:
Some may say that Leading is the more challenging role in tango, because from a kaleidoscope of options, continuous split-second decisions require pleasing a partner, interpreting the music, maintaining safety & direction, and uniquely expressing oneself.

Followers:
Some may say that Following is the more challenging role in tango, because it requires near-psychic sensitivity which must be slightly subdued, while making continuous accurate split-second responses to match a partner, enhance the music, maintain balance, and uniquely express oneself.

With thanks to Polly McBride of Portland, OR -- from her (now defunct) All Things Argentine Tango website.

<! =================================================================== >
---
TANGO DANCE ETIQUETTE
Here is an informative explanation of the etiquette of the Tango. This is especially good information for new dancers who haven't yet had much experience at milongas or Tango dance workshops, with lots of good general tips plus specific advice for leaders and for followers. More experienced milongueros probably know much of this already, but it's still a good review.
---
WHERE DO WE DANCE?
Here are maps and driving directions to tango venues on the Mendocino coast:

<! =================================================================== >
---
---
---